Hygrophila corymbosa ''Aroma''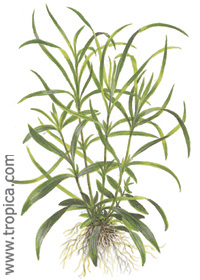 Hygrophila corymbosa ''Aroma''
Family: Acanthaceae
Continent: Asia
Region: South-east Asia
Country of origin:
Height: 20-30+ cm
Width: 20-40+ cm
Light requirements: high-very high
Temperature: 20-30 °C
Hardness tolerance: very soft-hard
pH tolerance: 5,5-8
Growth: slow
Demands: difficult
Under water Hygrophila corymbosa ''Aroma'' has very long, narrow and
elegant leaves which are grouped close together. When cultivated above water, it
has relatively short, hairy leaves. It is distinctive due to its strong aroma
(hence the name). See Hygrophila corymbosa ''Stricta''.
Didn't find the info you were looking for? Register for free and ask your question in our Aquarium forum !
Our knowledgeable staff usually responds to any question within 24 hours
Back to: Aquatic Plant Index - AC Tropical Fish
Database used with permission. Thanks to Tropica!