Eleocharis ''parvula''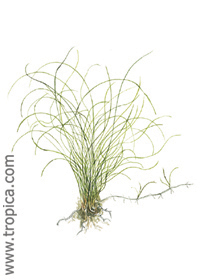 Eleocharis ''parvula''
Family: Cyperaceae
Continent: Cosmopolitan
Region:
Country of origin:
Height: 3-7 cm
Width: 5-10+ cm
Light requirements: low-very high
Temperature: 10-28 °C
Hardness tolerance: very soft-hard
pH tolerance: 5,5-8
Growth: medium
Demands: easy
A low-growing Eleocharis that forms runners close to the parent plant. It is
prettiest planted in small bunches quite close to each other, which will
gradually form a solid mass of plants. An ideal foreground plant, equally suited
to large and small aquariums. Its scientific name is at present uncertain. See
also Eleocharis acicularis.
Didn't find the info you were looking for? Register for free and ask your question in our Aquarium forum !
Our knowledgeable staff usually responds to any question within 24 hours
Back to: Aquatic Plant Index - AC Tropical Fish
Database used with permission. Thanks to Tropica!