Cardamine lyrata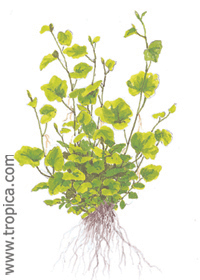 Cardamine lyrata
Family: Brassicaceae
Continent: Asia
Region: Asia
Country of origin:Japan
Height: 20-50 cm
Width: 15-30 cm
Light requirements: medium-very high
Temperature: 15-24 °C
Hardness tolerance: soft-hard
pH tolerance: 6-8
Growth: fast
Demands: easy
Cardamine lyrata is actually a marsh plant. But it is also a familiar
aquarium plant which thrives under water. A characteristic trailing growth form
makes it highly decorative, and ''water roots'' often form on the plant itself.
Plant in groups, and make sure the water temperature does not exceed 28 degrees
for long (this makes the leaves much smaller and the plant more leggy). Also
suitable in garden ponds in the summer.
Didn't find the info you were looking for? Register for free and ask your question in our Aquarium forum !
Our knowledgeable staff usually responds to any question within 24 hours
Back to: Aquatic Plant Index - AC Tropical Fish
Database used with permission. Thanks to Tropica!