Aponogeton ulvaceus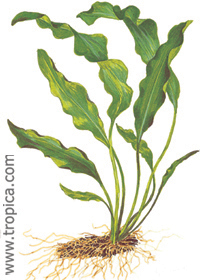 Aponogeton ulvaceus
Family: Aponogetonaceae
Continent: Africa
Region: Africa
Country of origin:Madagascar
Height: 30-50+ cm
Width: 30-35 cm
Light requirements: medium-very high
Temperature: 20-27 °C
Hardness tolerance: very soft-hard
pH tolerance: 5,5-8
Growth: slow
Demands: medium
Aponogeton ulvaceus is one of the most beautiful species in the
Aponogeton family. The leaves are delicate light-green and transparent with
fluted margin. A single root can produce more than 40 leaves. This means that
the plant is best as a solitary plant in large aquariums. It is relatively
tolerant, and thrives in both soft and hard water, particularly if CO2
is added. There are many varieties of Aponogeton ulvaceus, some of which
need a dormant period when the root does not produce leaves.
Didn't find the info you were looking for? Register for free and ask your question in our Aquarium forum !
Our knowledgeable staff usually responds to any question within 24 hours
Back to: Aquatic Plant Index - AC Tropical Fish
Database used with permission. Thanks to Tropica!