Anubias barteri var. nana 'Petite'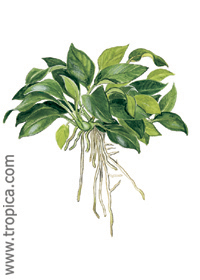 Anubias barteri var. nana 'Petite'
Family: Araceae
Continent: Cultivar
Region:
Country of origin:
Height: 3-5 cm
Width: 5-10+ cm
Light requirements: very low - high
Temperature: 20-30 °C
Hardness tolerance: very soft- very hard
pH tolerance: 6-8
Growth: very slow
Demands: easy
A mutation which appeared in cultivation at the Oriental aquarium plant
nursery in Singapore. Grows very slowly, and can be difficult to keep in healthy
growth. It is most decorative when attached to stones or roots, and like other
Anubias should be attached with fishing line until it gains a hold. A speciality
plant which is ideal for miniature landscapes in small aquariums.
Didn't find the info you were looking for? Register for free and ask your question in our Aquarium forum !
Our knowledgeable staff usually responds to any question within 24 hours
Back to: Aquatic Plant Index - AC Tropical Fish
Database used with permission. Thanks to Tropica!