Snowflake Moray Eel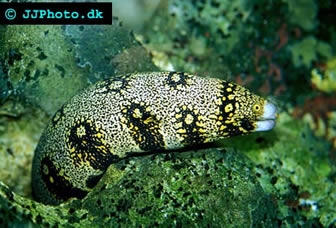 Copyright
www.jjphoto.dk
Common name: Snowflake moray eel
Scientific name: Echidna nebulosa
Max size: 20 in / 100cm
pH: 8.1-8.4
Salinity: 1.022-1.025
Temperature: 72-78ºF (22-26°C)
The Snowflake moray eel is one of the most commonly available morays and one of the most suitable species to keep in aquariums. It grows smaller than most other morays and only seldom eats fish. The Snowflake moray eel grows to be 40 inches / 100 cm in the wild but only seldom exceed 24 inches / 60 cm in aquariums. They are relatively commonly available in the pet trade and you should be able to find one. If your local fish store don't keep them you can order it online or ask your store to order one for you.
Most Snowflake moray eels in the trade are healthy but the ones that aren't are usually in very poor condition. Make sure that the moray you are planning to buying eats before you buy it and you should be fine. The Snowflake moray eel is a fast and graceful moray species.
The Snowflake moray eel has a white body with small spots that are anywhere between yellow to black. Look at the picture to better see how what it looks like.
The Snowflake moray eel is a hardy and easy to care for species that can be recommended to beginners with a large enough aquarium. It generally adapts well to aquarium conditions and is very resistant towards diseases. The Snowflake moray eel can often be a bit shy during the first few weeks in a new aquarium. Once it feels more at home it will become more active and you'll see more of it.
Be careful when working in the aquarium as they can bite your hands out of curiosity (mistaking it for a crustacean) or if it gets cornered.
The snowflake moray eel is not 100% reef safe as eat will eat any and all crustaceans in your aquarium. It can be kept with corals, anemones and gorgonians but the moray might accidentally damage corals or tip them over while exploring the aquarium. They, generally speaking, don't eat fish but have been know to occasionally do so. Well fed snowflake moray eels can normally be kept with smaller fish but there is always a risk involved and you might if you are unlucky loose a fish or two to your moray eel if you try to keep it with small fish. If your Snowflake moray eel has eaten a fish it is much more likely that it will eat more and a known "fish eater" should never be kept with small fish. The snowflake moray eel can always be kept with large aggressive fish such as triggers and puffers.
It is possible to keep more than one Snowflake moray eel in the same aquarium as long as the aquarium isn't too small and they've got a cave each. They might very well end up using the same cave but there should still be at least as many caves as Snowflake moray eels as they might have a falling out. Always introduce all snowflake moray eels you want to keep together at the same time as snowflake moray eels can be very aggressive towards newcomers.
The Snowflake moray eel is found in the entire tropical Indo-Pacific Ocean. They can be encountered from the red sea and the east coast of Africa to the tropical waters of the western coast of the Americas.
Snowflake Moray Eel care and aquarium setup
The Snowflake moray eel grows large and adult specimens require large aquariums. A small juvenile specimen can be kept in a 40 gallon / 150 L aquarium, but juvenile specimens do grow fast and will quickly grow out such a small tank. A 75 gallon / 300 L tank is more suitable as it can house the moray its entire life.
The Snowflake moray eel should be kept in aquariums with at least one suitably sized cave. It is better to provide it with several caves and decorate in such a way that it is possible for it to move from on side of your aquarium to the other without being exposed. This will make the Snowflake moray eel feel more at home in your aquarium and make it more active and visible. It will spend more time out in the open if it feels safe in your aquarium.
Keep the water quality high and the water values stable.
The Snowflake moray eel is like all morays an escape artist and it is very important to keep the entire aquarium well covered. This applies even if your aquarium isn't filled with water all they way up as they are good jumpers and can raise a large portion of the body straight out of the water if they want to.
Feeding Snowflake Moray Eel
The Snowflake moray eel is an active nocturnal predator. Its preferred prey is different types of crustaceans but it will occasionally eat fish as well. It will accept most meaty food types in the aquarium and should be fed a variety of different meaty foods such as fish chunks, shrimps, clam meat, mussels, crab meat and other sea foods. The Snowflake moray eel appreciates being fed live food every now and then. Feed your snowflake moray eel when it is hungry, which usually means 2-3 times a week. Don't try to get them to eat more often as that can hurt the health of your morays. They can sometimes go a couple of weeks without eating and this is nothing to worry about if your moray seems otherwise healthy. They are often less active during periods when they don't eat so this is not a sign of failing health.
You can train your Snowflake moray eel to eat out of your hand. This is however not recommended as they have poor eye sight and will bite you sooner or later. They have sharp teeth and bites from small morays can be painful while bites from adult specimens can cause large bleeding wounds. Hand feeding them can also make them associate your hand with food which can cause them to attack your hand when you work in the aquarium.
Breeding Snowflake Moray Eel
Only large adult specimens breed. In the wild, the eggs are scattered in the pelagic and will spend some time floating around in the current before the fry make their way back to the bottom. We have no information on sexing or breeding the snowflake moray eel in aquariums.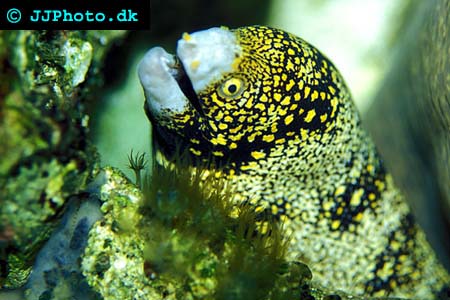 Snowflake moray (Aka snowflake eel)
By Cacoa_Pleco
Snowflake moray eels can reach up to 30" in length, so they should be housed in nothing less than a 220g aquarium. However, as long as proper housing is given these eels are not too hard to care for

They are carnivorous, meaning their main diet is meat. Feed them fiddler crabs, ghost shrimp, pieces of meat, etc. Because snowflakes are carnivorous, make sure there are no fish in the same aquarium that could be eaten

They require very clean water, if you are planning on not using a filter make sure you have at least 1lb per gallon of quality live rock. Snowflake eels like a salinity of 1.020-1.026, a PH of around 8-8.5, and a temperature of 72f-80f . To help keep the conditions clean, it is recommended you use a protein skimmer and sump

Snowflake eels need plenty of hiding spaces, placing PVC pipes around live rock stacks works well. Snowflake eels will make every attempt to escape the tank so it's a must to have a tight fitting hood with barely any exits. Contrary to what most people think, these eels are not electric, the only threats to their owners are their teeth.

They are not reef safe, they are predators and when they prowl for food at night they may dart into corals and tear them up. In short, it is best to setup a tank specifically for this eel, rather than risking it
Other Moray Eel Articles
Moray eels
- An article about how to keep moray eels in aquariums.
Dragon Moray eel
- Learn how to keep and care for the dragon moray eel.
Zebra Moray eel
- How to keep Zebra moray eels.