Aulonocara baenschi
Vetenskapligt namn: Aulonocara baenschi

Populär namn:

Synonym:

Familj: Cichlidae (Cichlids) , subFamilj: Pseudocrenilabrinae

Ordning: Perciformes (perch-likes)

Klass: Actinopterygii (ray-finned fishes)

Max storlek: 10 cm

Miljö: Sötvatten

Ursprung: Malawi sjön, Chipoka, Maleri Islands, Nkhomo, och Usisya

Temperament: Relativt fredliga.

Sällskap: Kan hållas tillsammans med andra fridfulla arter av samma storlek.

Vattenvärden: Temperatur 22-26C, pH 7.0-8.5

Akvarium och inredning: Kräver stenformationer som ger fisken bra gömställen. Planera när du sätter upp akvariet så att flera revir kan skapas med naturliga gränser. Se också till att det finns öppna ytor för fisken att simma över. Ha inga rötter i akvariet eftersom de sänker pH-värdet.

Föda: Äter all sorts föda.

Odla: Munruvare. Honan The female will protect a batch of 4-25 fry in her mouth for up to 4 weeks. The females will not eat will they brood. You can tell if a female is brooding by her enlarged mouth. fry are quite small and fragile but will accepts most kinds of food. Brooding females are isolated for more productive breeding. It is recommendable to try to make the isolation as short as possible to avoid that the females loses their social status which may cause fights once they are returned. Stress to the female can cause her to eat her eggs and fry.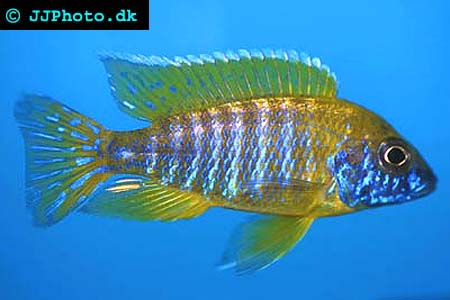 Aulonocara baenschi hane. Copyright www.jjphoto.dk

Aulonocara baenschi hona. Copyright www.jjphoto.dk
Andra Afrikanske ciklid profiler: