Salmon Seen Leaping From Waters of the River Derwent for the First Time in Two Centuries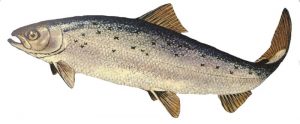 There is something fishy going on in Derbyshire – but it's the good kind of fishy.
After two centuries and 80 kilometers inland, an amazing thing has happened on one of the largest rivers in Britain – a salmon was seen leaping its way upstream to spawn.
This amazing thing – which is more common in Scotland and Canada – was seen in Derbyshire on the Rover Derwent.
The salmon – which would have swum to the ends of the earth just to spawn and perish – had an easier time making its way up the river due to the higher water levels because of recent rainfall.
Experts are keeping their fingers crossed, and by building "fish passes" around the weirs, hope to encourage a more permanent presence of the salmon.
Salmon need to be able to make their way upstream to breed, and Jim Finnegan – an Environment Agency expert – has commented that everything should be done to try and make this process easier.
He said: 'We have been down there and seen salmon trying to leap over the weir.
'But the ultimate objective is to see them spawning or breeding in the Derwent, and there's no evidence of that yet.
'We will need to build these fish passes.'
Well, the good news is that the salmon are making their way back up to Derwent. This means, that with a little bit of work and care, that we as humans can help mother nature return to its natural course.