Yellow-tailed damsel - Chrysiptera Parasema
Species Name: Chrysiptera Parasema
Synonym:
Common Names: Yellow-tailed damsel, Yellow-tailed blue damsel
Family: Pomacentridae
Order: Perciformes
Class: Actinopterygii
Max Size: 2.5 inches (6.4 cm)
Environment: Marine. Reef safe
Origin: Western Pacific Ocean.
Temperament: Semi-Aggressive.
Company: Other small Semi-Aggressive fish, or larger more passive fish. Keep only one per tank, unless you add at least 6.
Water Parameters: pH of 8.0-8.4, Specific gravity of  1.020-1.030, temperature of 73-83 F.
Aquarium Setup: At least a 10 gallon tank is recommended. Lots of hiding spaces, and large open spaces are best.
Feeding: YTD will feed on a variety of foods, including small pellets, vitamin enriched flake foods, and frozen meaty foods.
Breeding: Egg laying species.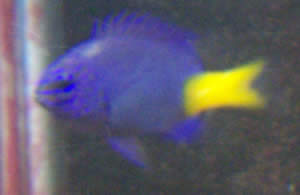 Didn't find the info you were looking for? Register for free and ask your question in our Aquarium forum !
Our knowledgeable staff usually responds to any question within 24 hours