Bluehead Fairy Wrasse – Cirrhilabrus cyanopleura

Bluehead Fairy Wrasse - Copyright www.jjphoto.dk
Species Name: Cirrhilabrus cyanopleura
Synonyms: C. cyanopleurus, C. heterodon, C, lyukyuensis, C. ryukyuensis
Common Names: Bluehead Fairy Wrasse, Yellowflanked Fairy Wrasse, Purplehead "Parrotfish"

Family: Labridae
Order: Perciformes (perch-likes)
Class: Acinopterygii (ray-finned fishes)
Max.Size: 5.1 inches / 13cm
Environment: Reef, Depth 2-30m
Origin: Eastern Indian Ocean and Western Pacific
Temperament: Semi aggressive
Company: Other less aggressive species. May harass other fairy wrasses.
Aquarium Setup: 75gal Minimum with plenty of hiding spots. Reef safe
Food: Meaty foods. Should be offered high quality frozen choices. Will also take high quality pellet foods.
Breeding: Often found in a group of 1 male with 3 females in the wild. A large system is required for this in captivity.

Yellowflanked Fairy Wrasse- Copyright www.jjphoto.dk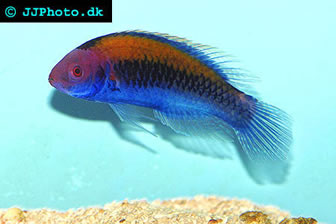 Cirrhilabrus cyanopleura - Copyright www.jjphoto.dk