Glass Catfish – Kryptopterus minor
Common name- Ghost/Glass Catfish

Scientific name- Kryptopterus minor

Family- Siluridae

Origin - Indonesia

Size- From 3 to 4 inches

Diet - They are sometimes hard to feed, only taking some live foods which are blood worms and brine shrimp.They can be feed on flakes from time to time.

Behavior - They are social fish and do well in groups. They would thrive with 5 or more but could handle 4. They do fine in community but need a lot of hiding spots. They like plants to hind in but not to many because they also like open space.

Breeding- There has not been much breeding in captivity. They have been bred on a very small scale in Asia. About 98% are all wild caught.

How to care for- They are not that hardy of a fish. They can not take big temperature changes. The ideal temperature for a ghost cat is 75-80 but can live in 72 or 82 degrees Fahrenheit. They like the pH 6.5-7.0 but can bee keep in a little higher pH. They can be kept in a 20 gallon long or above but need a lot of cover.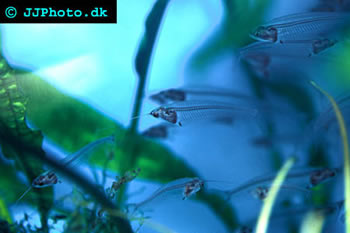 glass catfish - Copyright www.jjphoto.dk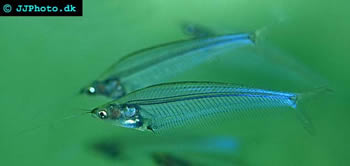 glass catfish - Copyright www.jjphoto.dk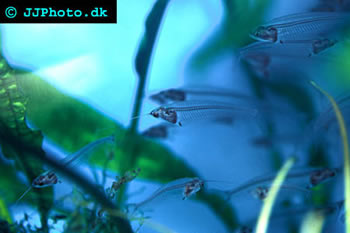 ghost catfish - Copyright www.jjphoto.dk