Otocinclus
Species name: Otocinclus

Synonym: Otocinclus

Common name: Otocinclus Catfish / Otocinclus / oto cats

Family: Loricariidae

Order: Cypriniformes

Class: Actinopterygii

Family: Loricariidae

Maximum size: 5 cm / 2 inches

Environment: freshwater

Origin: South America, Upper Amazon

Temperament: Very Peaceful
There are actually 13 different known Otocinclus Species known to date…the most common are the Otocinclus Affinis & Otocinclus Vittatus. Some of the prettiest are the Otocinclus Batmani and Otocinclus Cocoma. For some reason most stores simply sell them as Otocinclus with no proper species name.

Company: Otocinclus can be kept in community aquariums with most other not too large aquarium fish and should be kept in groups of at least 6 – in the wild they live in schoals of hundreds.

Water parameters: Temperature 24-27°C / 75-79°F; pH 6.0 – 8.0

Aquarium setup: Otocinclus Catfish can be kept in quite small aquariums. They prefer a well planted aquarium and should be supplied with plenty of hiding places. Hiding places can be created using roots and rocks or by using bought aquarium decorations.

Feeding: They are algae eaters supplement diet with sinking tablets and the usual cucumbers / lettuce or courgette (zucchini).

Breeding: Otocinclus Catfish can be sexed by looking at them from the top, females will be much broader, larger and rounder, males will always remain smaller and more slender. They are best bred in large groups in slightly acidic water and will lay their eggs under leaves or on wood. Otocinclus will actually not eat their own eggs so if you are breeding these no removal of the parents is necessary. In the wild they breed extremely easy and double in population within a few months.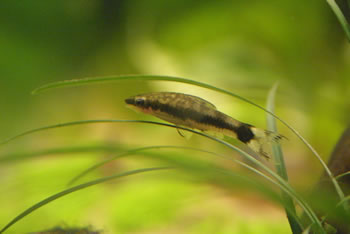 Otocinclus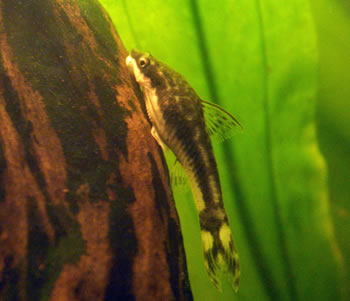 Otocinclus just before spawning
Pictures by www.fishaliciousfish.blogspot.com