Chocolate Labrador Retriever Dog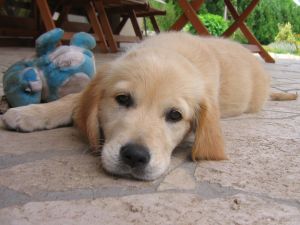 Golden Labrador puppy
The Chocolate Labrador retriever dog is one of several varieties of the immensely popular Labrador retriever dog. Dog lovers have their own reasons why they chose to have dogs in their houses. Many people keep dogs as companions only, while others also work or hunt together with their dog or keep a dog that assist them in their everyday life. When choosing dogs for companionship purposes, it is recommended to choose a breed that is easy to train and has a pleasing personality. Ideally pick a dog that will not become frustrated from being "only" a companion dog. A sleigh dog can for instance become highly frustrated if it is only provided with a few walks a day instead of the strenuous physical activity for which it was originally bred. If you want to keep a dog primarily as a companion, one of the first breeds of dog that comes to mind is of course the extremely popular Labrador retriever.
Labrador retriever dogs are known for being highly intellectual and friendly and the Chocolate Labrador retriever is certainly not an exception. They are very easy to train and are known to be one of the best dog companions in the world. They are also used to serve as guides for blind people and Labrador retrievers are considered very trustworthy dogs.
Aside from determining the breed of dog to own, the color is also an important factor for many owners. For Labrador retrievers, one of the most in demand color for this breed is the chocolate Labrador retriever. Unfortunately, the history of the chocolate Labrador retriever is not entirely a pleasant one. We must let the history remind us not to commit the same mistakes again.
According to the history for this breed of dog, the chocolate Labrador retriever was not the favorite color during the early days of the breed. One of the most popular varieties in those days was instead the black Labrador with a white diamond shape mark on the chest. Next to the black Labrador in popularity was the yellow Labrador, and the chocolate Labrador retriever did not even make it to the list of favorites because people suspected that chocolate Labrador retrievers were the result of a genetic mistake that could cause problems for the dog. As a result, they tried to erase the chocolate Labrador retriever variety from the breed and many breeders euthanized chocolate colored puppies to prevent the perceived genetic problems from spreading.
By the early 1970s, people were able to develop more advance knowledge in determining genetics and the result of their research proved that chocolate Labrador retrievers did not suffer from more genetic risk factors than the other Labrador variants. In an instant, chocolate Labrador retrievers became the most desired color for this breed of dog. This was partly due to the fact that chocolate Labradors were near extinction during that time, and to actually own one could make a dog owner feel unique.
However, owning a chocolate Labrador was not easy because there were a few chocolate Labrador retrievers left. At this point, unscrupulous breeders began breeding Labrador retrievers with any breed of dog that had a chocolate fur just to be able to supply the market with chocolate puppies. One example of a dog frequently used as a stand in for the chocolate Labrador was the Chesapeake Bay retriever. Focus was placed solely on appearance and other important factors such as health and temperament were largely neglected. Because of this, the chocolate Labrador retrievers soon developed a bad reputation and became known as moody dogs with low intelligence.
Today, reputable breeders have restored the reputation of the chocolate Labrador retriever by producing healthy, intelligent and well balanced chocolate Labradors. If you chose a reputable and knowledgeable breeder, you can get a chocolate Labrador retriever that is just as clever and mentally stable as all the other Labrador retrievers.