Golden Retriever Pup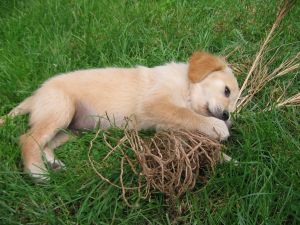 A pet, whether it is a dog, a cat, or something else, can give so much happiness and warmth to humans. No one can value and measure the joy that a pet brings better than a person who is a true animal lover. Thus, it comes as no surprise that most people are willing to take in at least one or two domesticated animals to love and care for. There are specific dog breeds that are highly recommended as pets, as these are known to provide companionship to a single person or group of individuals without requiring any fastidious exercises that are hard to carry out for the ever normal pet owner.
Studies show that taking care of domesticated animals has therapeutic effects on the owners. Possessing a Golden Retriever pup is no exception, and the Golden Retriever puppy is known to as an exuberant pet that can match the energy levels even of young children. A Golden Retriever puppy is normally quite playful and happy when in the company of humans and adapting to a family will therefore not be a problem. A Golden Retriever is loyal to its owner and gentle towards small children.
There are many breeders of this particular dog breed and finding the right Golden Retriever puppy for you will not be difficult. There are however a few things to take into consideration. Prior to acquiring one, you should gather some information about what to expect from the pup. You should ideally be armed with a list of questions that you will ask the breeder with regard to the different aspects involved in raising a Golden Retriever, such as dietary requirements, proper exercise and grooming, and the lineage of the litter from which you are to make your selection. The breeder in turn will also have his or her own queries to gauge your capability to be a responsible dog owner.
There may be instances where you will not be the one to choose your puppy but the breeder will do this task for you. In the case of serious hobby breeders, they are in the position to observe the puppies in their litter in terms of temperament and behavior. They will generally be able to pick one that matches your preferences. Most buyers are easily taken by a puppy by the way it looks but this should not be your only basis when choosing. There are standards that must be met to guarantee that you are getting a healthy Golden Retriever pup with a good disposition.
Training your Golden Retriever puppy may be done with the help of guidebooks or through formal training provided by various dog obedience schools. It is relatively easy to teach your dog the basic commands and toilet training but if you want it to grow under a strict tutelage, you can consider sending your dog in a school. Numerous breeders offer obedience classes to puppies and adult dogs, alike, which you may be interested to look into. To address the problem of unsupervised chewing of your things at home, you should buy some chew toys that your puppy can concentrate his energy without wreaking havoc to your furniture.