Golden Retriever Kennel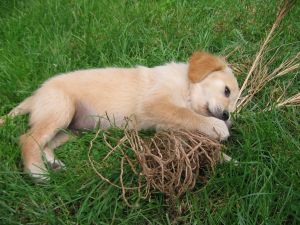 Hopefully later than sooner, there will come a time when you will have to leave your pampered Golden Retriever pet dog. Maybe you have to go on an extended vacation. Perhaps you need to go on an out of town business trip. Or maybe your Golden Retriever is proving to be a little too much to handle so you need to put him in the hands of an experienced trainer for a while.
What better place to leave your Golden Retriever than in a Golden Retriever kennel. A dog kennel is a place where your beloved pet can receive the right handling, proper treatment, and quality care from dog professionals and their trained staff. But don't drop off your beloved Golden Retriever at just any kennel nearest to your home. It is very important that you carefully choose the right dog kennel for your Golden Retriever.
To find out if a Golden Retriever kennel is any good, ask around. Gather some information from your friends, veterinarian, and those who have had experience with that particular dog kennel. Do some research and find out which ones are legally licensed and routinely undergo health and safety inspections. Of course, common sense will tell you to choose the dog kennel that comes highly recommended and gets the most glowing reviews. However, no one's experience with a particular place is exactly the same, so it will be better for you and your Golden Retriever if you take the time to go and visit the Golden Retriever kennel yourself as well.
Dog kennels almost always welcome walk-in customers, so be wary of the one that does not allow you to immediately enter. It could be a sign that they might be hiding something from you, such as an unclean environment. If you want to, you can of course call the Golden Retriever kennel ahead and schedule an appointment with them. In the busier seasons like the holidays, expect dog kennels to be fully loaded so call them for an appointment at least 2 weeks in advance.
Once you get there, inspect the Golden Retriever kennel thoroughly. Cleanliness of the dog kennel is of utmost importance, whether it be an indoor or an outdoor kennel. The cages must have adequate space and have the proper borders and divisions between them. The cage trays must be regularly cleaned and there shouldn't be an overpowering smell. The kennel must be disinfected so that bacteria and diseases are kept at bay.
Ask the dog kennel managers some important questions like how often they feed their pet boarders. Ask them about their exercise activities and how much socialization each pet gets. Find out if they have local veterinary services available for their dog kennel.
To make the separation easier for your Golden Retriever, ease him into his new environment by providing him with familiar toys. Also bring all the special things that your dog might need, such as specific dog food, special medicine, and etc. To give you peace of mind, leave a number where the Golden Retriever kennel will be able to reach you in case of emergency.