Bichon Frisé Resources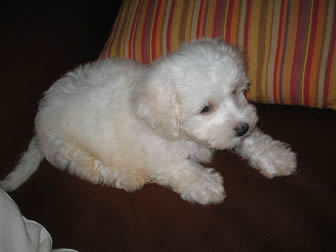 Bichon Frisé means "curly lap dog" in French, and the name is aptly chosen for this small, social breed. The Bicho Frisé looks similar to the Maltese dog, but is somewhat bigger. The Bichon Frisé is an excellent choice if you want a companion that does not require excessive amounts of exercise.
The Bichon Frise is a non-shedding breed and you must be prepared to provide it with regular grooming. Since this dog breed does not shed, some people can tolerate it even though they are allergic to most other dog breeds. If you are allergic to dogs, you should spend some time with a Bichon Frisé before you get one for your self since it can take time for an allergy to manifest.
You can learn more about the Bichon Frisé, its requirements and its hypo allergic properties on the following resource pages.
Send us an email if you want your site listed below